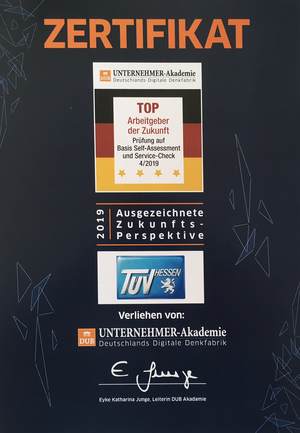 TOP Employer of the Future
The DUB UNTERNEHMER Academy has recognized TÜV Hessen as a TOP employer of the future.
The audit was based on a self-assessment and a service check in April 2019.
The catalog of questions or criteria was developed with KPMG Atlas, the digital consulting platform of KPMG Germany.
If you are looking for a new challenge, you have come to the right place!
Further training opportunities, attractive benefits packages, exciting projects in diverse areas, work-life balance and many other offers are provided by TÜV Hessen.
Build on the experience and knowledge of TÜV Hessen in a wide range of tasks to promote safety, environmental protection, quality and marketability of plants, products and services.
Give your future certainty and find a job with us that suits you.
Whether you are a school pupil, a student, a graduate or an experienced professional - you have many different opportunities to start your career with us. In the fields of mechanical engineering, electrical engineering, IT security, automotive engineering, environmental engineering, process engineering, mechatronics or psychology, you will take on responsible tasks in success-oriented teams - also internationally. You are also welcome to send us an unsolicited application!